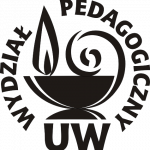 The Faculty of Education at the University of Warsaw is the oldest department of education in Poland – it has existed for 60 years. It provides the highest level of training for future pedagogues, teachers, socio-cultural animators, educators, tutors, education policy specialists, pedagogical therapists and andragogues. Our graduates may take up work in public educational, social and cultural institutions and organizations, as well as NGOs and the private sector.
Our students and graduates work in schools, kindergartens, adoption centres, children's homes, community centres, the local media, psychological and pedagogical clinics. They also work as independent educators and trainers in various fields, and implement educational, preventive and socio-cultural projects within the NGO sector.
By choosing the Faculty of Education you will join a large group of students from one of the best of Polish universities. For many years the University of Warsaw and the Faculty of Education have occupied top positions in national rankings created by the media.
Our Units and Departments